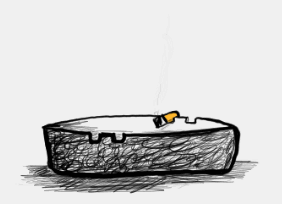 Lost Smokes
I hosted the jam because I wanted the theme to push the creators into gaining something personal out of the creation. I think every project does that, no matter what the theme is, but I hoped this theme would direct that energy into something unique from other jams. It did for me.

I knew early on that I wanted to make the game about this particular story about my grandmother. The biggest challenge was figuring out a way to make that interactive. Some things don't easily translate into being a game (if this can even be considered a game). In the weeks leading up to the jam I thought, and thought, and thought and on the first day I still wasn't sure what I was going to do. It was not until I started sketching a room in their house in an exercise to remember that the idea of a searching game came to me. And at that point I had already started the intro sequence to the game. Once decided, I had a lot of art left to do. This project was simple compared to some I've done as far as the coding went. There was very little to do there, but there was a lot of perspective art to do, and I am not the best artist when it comes to drawing perspective line art. I had to pace myself and the two weeks the jam ran was barely enough time for me to create the art in my free time.

I have not seen or much thought about my grandparents' house in ten years. After my grandmother passed there was an estate sale to clean out all the old antique stuff and then the house was sold. Drawing the rooms was what truly made this project for me. Each sketch became a meditation in remembering all that old stuff and exactly where it sat in the house. I know I probably didn't get all the details right, but I tried to remember as much as I could. I had forgotten about the chalk board in the kitchen until now. I had forgotten about the corncob holders and the rug beside the hearth. I know it all sounds tremendously sentimental, and it is, but this project wasn't for you. Hopefully you understand what I mean by that.

Files
LostSmokesWebBuild.zip
Play in browser
Nov 01, 2017